Secure and Comfortable Full Body Pediatric Immobilization
Provides continuous spinal support and pediatric patient comfort in one complete package. The EVAC-U-SPLINT® Pediatric Mattress is designed to mold to the child's specific body contours, providing a secure cradle that is both supportive and comfortable. The child is held securely and comfortably in neutral alignment reducing the struggling, fear and anxiety common with pediatric patients. The EVAC-U-SPLINT Pediatric Mattress has four large built-in padded handles making it easy to lift and carry. It has been designed to accommodate children in the 2-10 year age group.
The uncomplicated design enables fast, accurate application of the Pediatric Mattress. Conforming beads allow quick positioning of the patient in neutral alignment on-scene. No additional blankets or pads are necessary and there are no parts to lose. The child is held securely and comfortably without unnecessary pressure, thus reducing child anxiety during transport. The compact EVAC-U-SPLINT Pediatric Mattress Kit easily stows inside emergency vehicle storage areas and in external equipment compartments
EVAC-U-SPLINT Pediatric Vacuum Mattress—Quality and Value From A Trusted EMS Brand
The EVAC-U-SPLINT continues to be one of the longest lasting vacuum splinting devices in the market. We have customers that are still using products made over 20 years ago. Every now and then we'll field a call or see an order for a replacement o-ring or other little service item to keep them going for another 5 years. Its pretty amazing when you think about it. – Gary Williams CEO, Hartwell Medical LLC 
Vacuum Splint Products That Simply Work Better
Since our inception, Hartwell Medical has been known for innovative design, quality craftsmanship and exceptional customer service. All of our products are subjected to real-life field tests to ensure they meet our highest clinical standards and your ever-changing needs.
Contact our customer service for information on where to purchase, how to buy or arranging product demonstrations
EVAC-U-SPLINT® Pediatric Mattress Features
EVAC-U-SPLINT Pediatric Mattress Video Demonstration
Already Using A Hartwell Medical Product?

 We Would Love To Know!
Please Send Me Your Latest EMS Product Guide!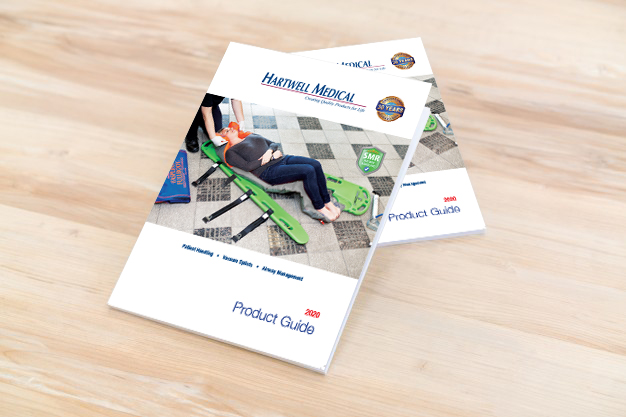 The new 2023 Hartwell Medical product guide is your go-to document for all the great product details and specifications you're looking for. Get a Free Copy!
Proudly Supporting EMS Departments and First Responders Worldwide