Versatile and Adaptable Full Body Immobilization
The EVAC-U-SPLINT® adult vacuum mattress provides fast, effective and comfortable immobilization for the entire patient. Molding to the specific contours of the patient's body without applying pressure, the vacuum mattress provides uniform support and reduces pressure point tenderness.
The EVAC-U-SPLINT mattresses has six large padded handles secured to the perimeter of the mattress which provide improved security when moving and transferring a patient and also allows for rescuers to share handles when handing off a patient in tight quarters. The EVAC-U-SPLINT is filled with thousands of polystyrene beads which act as a thermal insulator to help maintain the patient's core body temperature decreasing the potential for hypothermia.
Evacuation time is less than 25 seconds using the durable, very efficient all-aluminum manual pump with foot stirrup. Includes dual-wall braided hose. Features easy-to-apply color coded side-release buckles offering rapid and secure patient restraint. Features the simple, and intuitive MaxiValve™ that is extremely reliable and is guaranteed for the life of the product. Provides quick connect and disconnect. Includes protective leashed cap.
EVAC-U-SPLINT Adult Vacuum Mattress—Quality From A Brand You Can Trust!
The EVAC-U-SPLINT continues to be one of the longest lasting vacuum splinting devices in the market. We have customers that are still using products made over 20 years ago. Every now and then we'll field a call or see an order for a replacement o-ring or other little service item to keep them going for another 5 years. Its pretty amazing when you think about it. – Gary Williams CEO, Hartwell Medical LLC 
Vacuum Splint Products That Simply Work Better
Since our inception, Hartwell Medical has been known for innovative design, quality craftsmanship and exceptional customer service. All of our products are subjected to real-life field tests to ensure they meet our highest clinical standards and your ever-changing needs.
Contact our customer service for information on where to purchase, how to buy or arranging product demonstrations
EVAC-U-SPLINT® Designed To Exceed Your Splinting and Immobilization Expectations
EVAC-U-SPLINT Adult Mattress Video Demonstration
Already Using A Hartwell Medical Product?

 We Would Love To Know!
Please Send Me Your Latest EMS Product Guide!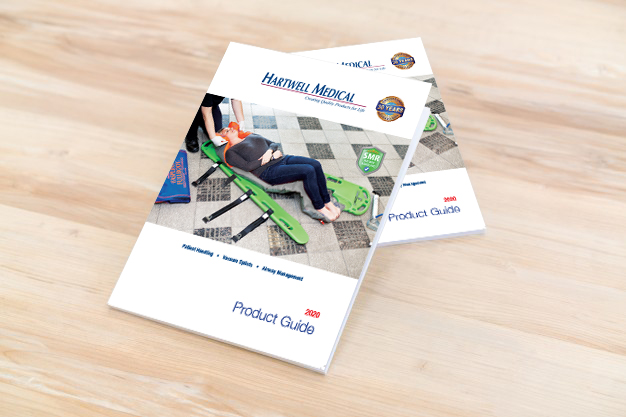 The new 2023 Hartwell Medical product guide is your go-to document for all the great product details and specifications you're looking for. Get a Free Copy!
Proudly Supporting EMS Departments and First Responders Worldwide