Spinal Motion Restriction (SMR) Protocol Based Immobilization
Continuous Spinal Motion Restriction and Patient Comfort In a Complete Budget Friendly Package. The FASPLINT FULLBODY® full-length vacuum splint stabilizes each patient in the position most comfortable for them, making it ideal for back injuries and geriatric care. The FASPLINT FULLBODY provides continuous full body support and enables the patient's legs to be supported in the flexed position for additional comfort during transport. The mattress is designed to alleviate pressure point pain and vastly increases patient comfort during transport on various patient handling devices like the CombiCarrierII® or a backboard. Polystyrene beads insulate the patient to help prevent hypothermia. The economical, tapered design accommodates your budget and your storage needs.
Significantly reduces or eliminates the pressure point tenderness and pain often seen in patients secured to a backboard. Dampens vibrations from irregular road conditions and helps emergency personnel stabilize a patient in a position of comfort during transport to the hospital.
Product Menu
Vacuum Splint Products That Simply Work Better
Since our inception, Hartwell Medical has been known for innovative design, quality craftsmanship and exceptional customer service. All of our products are subjected to real-life field tests to ensure they meet our highest clinical standards and your ever-changing needs.
Contact our customer service for information on where to purchase, how to buy or arranging product demonstrations
FASPLINT FULLBODY® Features and Benefits
FASPLINT FULLBODY Video Demonstration
Already Using A Hartwell Medical Product?

 We Would Love To Know!
Please Send Me Your Latest EMS Product Guide!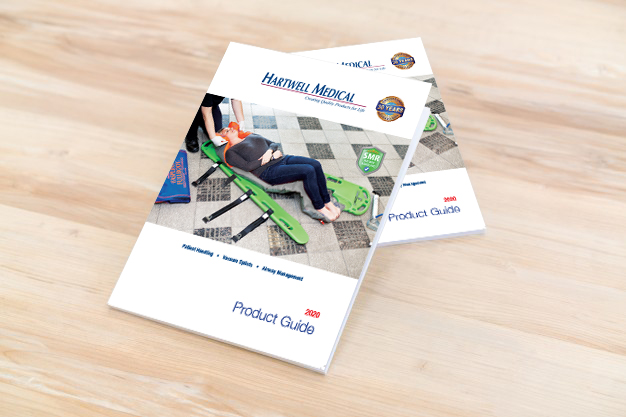 The new 2023 Hartwell Medical product guide is your go-to document for all the great product details and specifications you're looking for. Get a Free Copy!
Proudly Supporting EMS Departments and First Responders Worldwide