Functions as a Scoop Stretcher and Extrication Board
The CombiCarrierII® functions as a scoop-type stretcher minimizing patient movement with no logrolling required and also serves as an improved extrication board during vehicle extrication situations. The CombiCarrierII meets the latest Spinal Motion Restriction (SMR) protocols providing optimal patient handling in the most extreme environments including water rescue.
The concave patient surface limits lateral movement of the victim providing more secure stabilization. The split-litter design also allows for easy removal once the patient is on the ambulance cot or delivered to the emergency department. Built to take a beating, many of the original units are still in operation with zero failures in over 18 years.
Safely extricate and transfer a patient to the cot. The CombiCarrierII is easily removed eliminating the loss of your valuable equipment. Best of all, the innovative design of the CombiCarrierII provides emergency medical and rescue personnel with two products in one, saving valuable storage space, weight and critical budget dollars. Comes with an industry leading 5-year warranty. 
Available in Lime Green (CC 2200P) or Olive Drab Green (CC 2200P OD). 
Lime CombiCarrierII is shown with an optional yellow head immobilizer. Note: If Olive drab CombiCarrierII with black head immobilizer is desired, please contact customer service for lead times.
EMS Products That Simply Work Better
Since our inception, Hartwell Medical has been known for innovative design, quality craftsmanship and exceptional customer service. All of our products are subjected to real-life field tests to ensure they meet our highest clinical standards and your ever-changing needs.
Contact our customer service for information on where to purchase, how to buy or arranging product demonstrations
CombiCarrierII® Features and Benefits
"The CombiCarrier(s) are remarkable improvements over the traditional aluminum scoop stretcher devices…"
"To date, staff have found it (the CombiCarrier) very user-friendly and no patient has found it uncomfortable."
"…even with unexperienced people he was able to install the patient onto the CombiCarrier with ease and very little added pain and discomfort to the patient."
"By switching to the CombiCarrier, we are able to have three spine boards when needed, without giving up the use of a clam type stretcher."
CombiCarrierII Video Demonstration
CombiCarrierII UnBoxIt Video From A.J. Heightman, MPA, EMT-P.
Watch How The CombiCarrierII Is Used In Other Parts Of The World
Already Using A Hartwell Medical Product?

 We Would Love To Know!
Please Send Me Your Latest EMS Product Guide!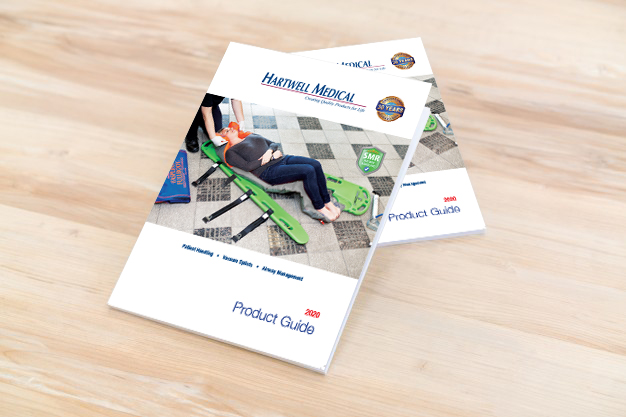 The new 2023 Hartwell Medical product guide is your go-to document for all the great product details and specifications you're looking for. Get a Free Copy!
Proudly Supporting EMS Departments and First Responders Worldwide